We are excited to get ST Math rosters set up through Clever secure sync. All applications have unique requirements for set-up through Clever, so please review the guidelines below.


Connect with ST Math:

Districts that wish to use Clever will connect with ST Math by accepting the request to connect sent by the Regional Implementation Manager or by sending a request to connect from their Clever account. The district will share data with ST Math and once the connection is approved, the Regional Implementation Manager will check to see that the appropriate schools, grades, and classes have been shared and ask the district to make corrections to sharing rules as needed. Please share only grade levels for students who contractually should have access to ST Math.
Specific information about Clever setup and sharing can be found on Clever's website www.clever.com or at the Clever Support site at www.support.clever.com or by contacting your Clever District Success Representative.

After sharing is set up by the district, the Regional Implementation Manager will complete the setup for access in ST Math and submit to our Engineering Team for testing and processing. After data is processed by Engineering, educators shared through Clever will receive an email letting them know that an account has been created, classes will be created and populated with students shared in the synced data from the student information system, and students should be able to sign in after logging into Clever and clicking on the ST Math tile.


Recommendations for Sharing Students, Teachers, and Administrators:
Students cannot be given a grade designation of "Other" in Clever to receive an account in ST Math as they must be assigned a grade level journey when an account is provisioned.
District administrators, school administrators, teachers, and student accounts will be provisioned through Clever if shared through the files through Clever. This should include any staff that will use or monitor the program (Principals, Assistant Principals, Instructional Coaches, Resource Specialists etc.).
Special Education teachers can be shared as school admins if not shared as coteachers for specific classes.
Teachers with students/classes must be added through Clever and will login through the district Clever with their SSO login.
Admin accounts not shared through Clever can be created by an existing district admin user at play.stmath.com. For directions on how to create admin accounts, click here.
Note: Admin users created in ST Math and not shared through Clever will access ST Math by signing in at play.stmath.com since they are not being shared through Clever.
Recommendations for Sharing Classes/Sections:
Please only share the sections for any schools, teachers, and students authorized to access ST Math. ST Math will mirror each section shared from the Student Information System through Clever. Typically math sections should be shared. If students are not assigned to a math section, then homeroom sections can be shared.For Example:
All K-5 math students at Washington ES will use ST Math.
Share: All K-5 math sections at Washington ES.

Grades 1 and 2 at Johnson ES and Madison ES will use ST Math.
Share: Math sections in grades 1 and 2 at Johnson ES and Madison ES.

Sections C75 and M21 at Roosevelt MS will use ST Math.
Share: The specific section numbers at Roosevelt MS.
Here's an example of shared rules: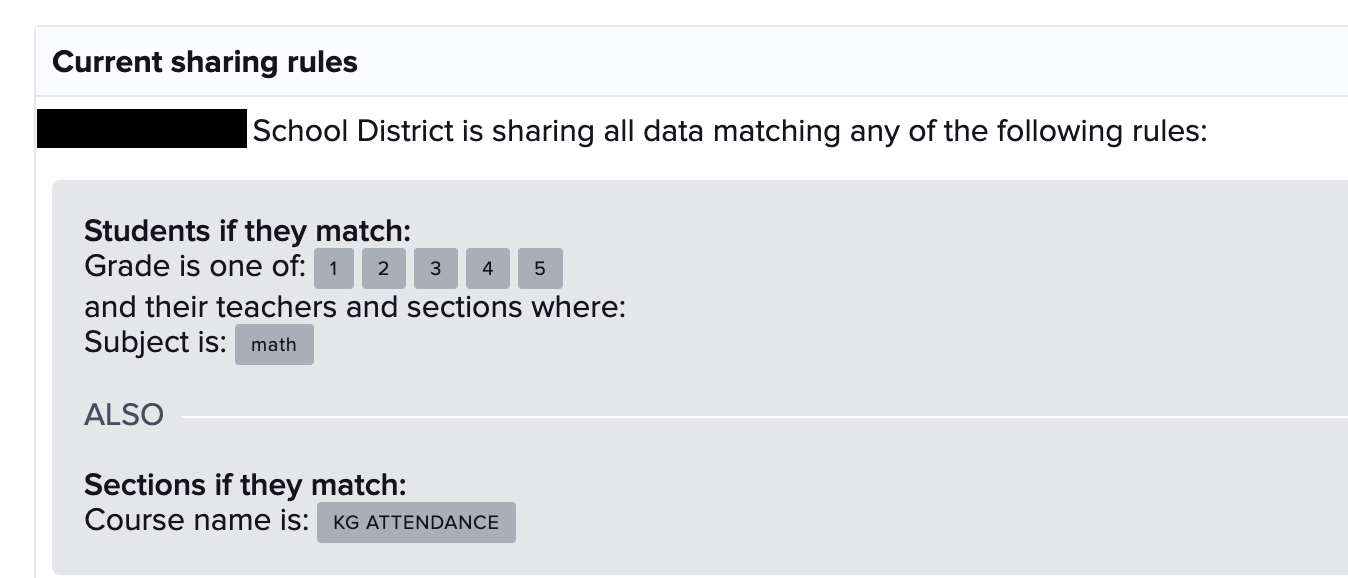 If non-math sections of students are shared like English, History, etc., the teachers of those sections will have ST Math accounts created and will have classes created in ST Math. It is a best practice to create accounts only for teachers who will use ST Math and only math sections.
Signing Into ST Math
Students, teachers, and admin users shared through Clever files will sign in through the Clever district portal with their SSO login. Teachers and admin may also sign in through play.stmath.com. Please note that the Clever login is set by the district and is different than the username and password for play.stmath.com.

Note: If a student is not listed in a section, they will not receive an account and cannot sign into ST Math.