More features coming soon so check back here to stay up-to-date!
2023 New Year Releases
Puzzle Talks link now listed under Curriculum dropdown menu
Ability to organize All Learning Objectives by Auto-Assignments, grouped by topic cluster
Game in a Minute videos are now located under the Objectives game tab (Beta)
This Year Puzzles and This Year Objectives columns now visible for classes and students
Updated information with Learn More link to Help article:

What is the difference between a student's Journey, Assignments, and History?

Educators can now manage students' access to the Annotation Tool.
Students now have the ability to manage puzzle animation speeds (Beta)
Built-in Console Support is now available by clicking on the question mark icon in the Educator account
2022 Fall Releases
School administrators can now view their school's average puzzle goal progress.
Educator account embedded survey and feedback in all Staff, and Administrator accounts.
Embedded help content is now displayed when no classes are listed on the School and My Classes page.
2022 Summer Releases:
Search field now added to All Learning Objectives page
Students' progress now saves between login sessions. More info can be found here.
Rostered class details available under class settings
Usage - Beta tab now available for Homeschool accounts
Coming Soon! Foundation Support Tool for assessment integration in grades 2-5
The ability for district administrators to reorder the journey objectives
We have expanded our standards coverage, added new games with enhanced interactivity, and streamlined the student Journey. These changes are data-driven improvements that allow students to focus on games that will give them the most significant learning gains. We've also updated the default sequence to prioritize major content and expanded bonus and optional Journey content to engage early finishers. Check out the list of new games here.
Puzzle Goal Progress denominator value updates. Click here to view new values.
Updated name change from % Progress to Puzzle Goal Progress
New Scope and Sequence area with data filtered by State, Grade, and Journey/Standard. Located under the Curriculum dropdown menu
Managing a student's journey has been moved to the settings tab
Administrators can enter their 1st day of school (Non-rostered schools)
Rostered schools can notify ST Math Support by using the Roster Notification option to advise when rosters are ready for the new school year
2022 New Year Releases:
New collapsible banner alerts
The student's sign-in time will now match the district time zone
Alerts icons added to the class objective list view
Ability to manage Auto-Assignments by class or individual students
Updates to how district admin's column and tab headers are displayed
District admins can now view previous school term data
Currently Playing column headers have been changed to Last Played.
Export report options have been added to the student's tab on the district and school page.
Export report improvements to the xlsx report columns (width, order, and visibility), file name, and % progress values as whole numbers.
Staff-managed classes now have a label indicating they are staff-managed classes on the My Classes page.
What's New in ST Math link under Support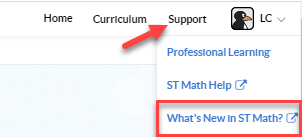 2021 Fall Releases:
Your Educator Console has a whole new look!! Take a tour here.
You can also learn more about the new features and how to use them at the ST Math Academy. If you're signed in to your account, you can go here!
More features will be coming soon so check back here to stay up-to-date!