Did you know that there are students all across the country who love playing ST Math?
And did you also know that JiJi has been traveling all over the world for over 12 years?
It's true!
This school year, ST Math wants to take you and all of your students on a magical mathematical adventure AROUND THE WORLD as we take a look BACK IN TIME!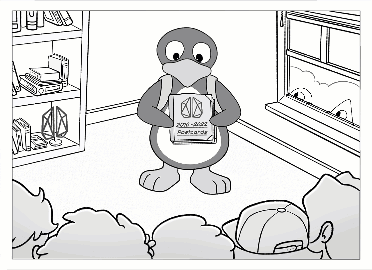 We are celebrating some of the places around the world that JiJi visited from 2010 to 2022! Along the way, you will meet some new friends and discover how these students - and many others - make math a part of their everyday lives in really fun ways!
Get ready for an exciting math-filled journey with JiJi and some brand new friends!
You will receive ten postcards this year from ten of our Little Scholars - students from across the country who are just like your students!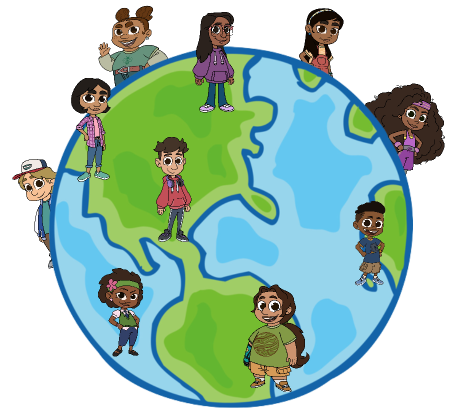 These postcards will spotlight some of the fascinating places that JiJi has visited over the years. Each two-sided postcard will also include a Fun Fact Sheet, featuring a personal connection to the Little Scholar who sent it, and some fascinating facts about the place from which it was originally sent.
As you share these throwback postcards with your students, we encourage you to turn each one into a fun and engaging activity.
Extend your students' understanding of math in their everyday lives as they dig into each unique postcard and Fun Fact Sheet. Encourage them in their learning by giving them the space to: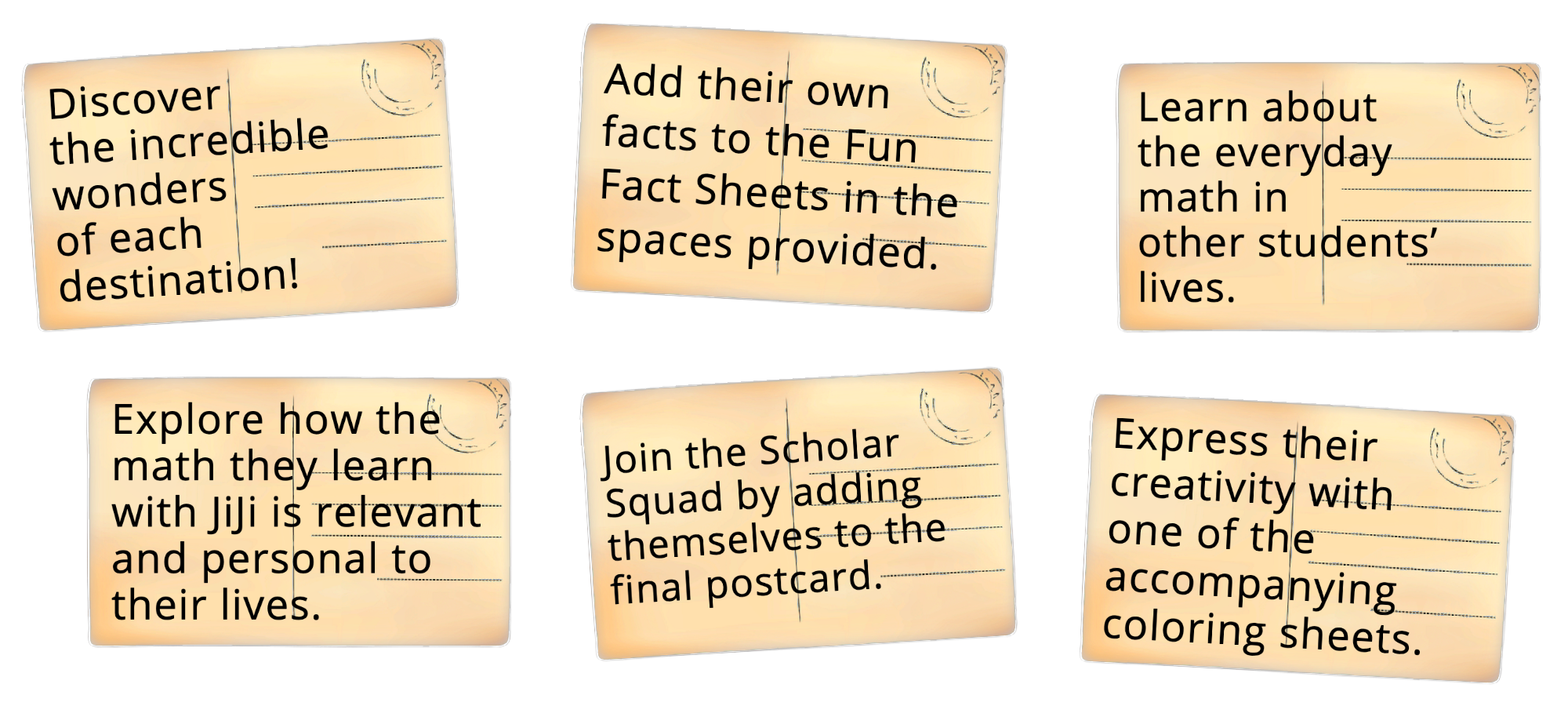 But wait... There's more!!
We also created blank fact sheets which provide a place for your students to create and share their own personal Fun Fact Sheets by drawing pictures, attaching photos, and telling stories about their school and home communities. [Click on the image or on the link below to download.]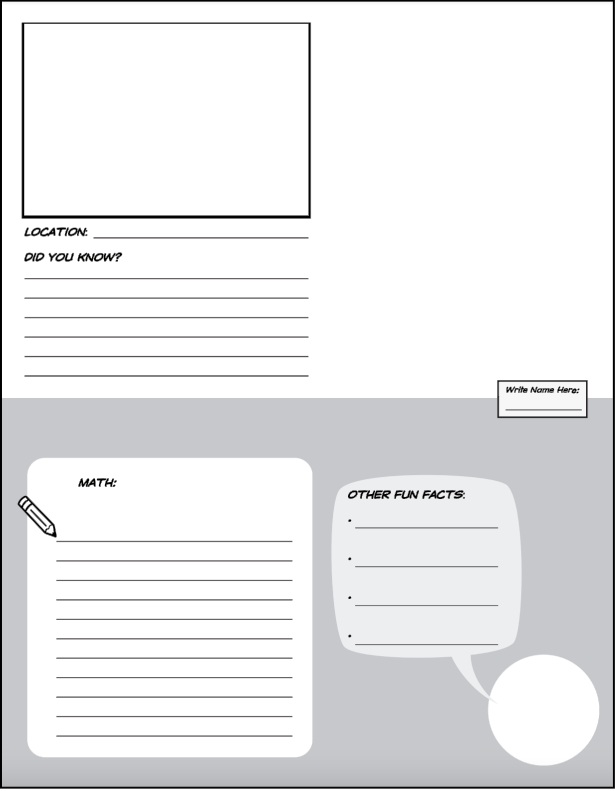 Encourage your students to add fascinating facts, to look for the math around them in their everyday lives, and to make personal connections.
This historic, international adventure is all about making math come alive in your students' lives and fostering a love for learning in each one of them!
We would LOVE to be a part of your students' adventure so please share their amazing ideas and creations with us. Could there be a better way to visually celebrate your students' progress and creativity than by posting them on social media? Below you'll also find coloring sheets, blank postcards, and passports to add to the fun, but do not limit yourself or your students to these ideas!
Maybe you have a student who wants to take a selfie with JiJi (this JiJi cut out might come in handy). Maybe some students want to create their own postcard each month (we have this blank postcard back for that). Or maybe your class wants to recreate the Celebration Postcard group selfie (you could even grab some fun ST Math swag here to enhance the picture).
Whatever you and your fantastic students decide to create, just make sure you're following us on Twitter, Facebook, and/or Instagram and tag @STMath using the hashtag #JiJiPostcards so that we can celebrate your students, too!
CHECK OUT THIS YEAR'S EXCITING DESTINATIONS!
There are two options for downloading the postcards:
If you are interested in an individual postcard, click on its title to go to that postcard's unique page. There you will find the postcard's printable front and back images, plus the accompanying Fun Fact Sheet.
Postcards can also be downloaded as a collection of two cards per page, or ten cards per page (which make great Passport stamps) by using one of the options below.
DON'T FORGET ABOUT THESE GREAT EXTRAS!
Note: The postcards on this page are intended for use with non-progress-related goals, such as number of puzzles completed, total minutes played, or any other unique class goals.
If you are interested in postcards designed to celebrate when your class achieves 10% progress, you will find them on the THE 2023-2024 PUZZLE GOAL PROGRESS POSTCARDS HAVE ARRIVED page.. Additionally, a celebratory banner and link will show up automatically on your class page in the Educator Console (sign in at play.stmath.com) for every 10% progress. Clicking on the banner leads right to the postcard and message! To turn off those notifications, see the instructions below.
Looking for postcard coloring sheets from previous years? Check out the new Coloring Sheets from JiJi's Past page.
To opt out of the You've Got Mail notifications, go to your My Account page in the educator console, scroll down to Notifications, and turn the banner toggle "off."