The progress bar is in the upper right corner of the student's screen while they're playing games. Clicking on the progress bar gives more information about the student's current game.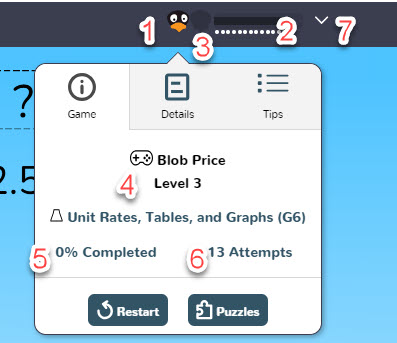 1 - The number of JiJi's shows how many attempts (JiJi lives) the student has remaining for this level. Once all JiJi lives (usually 2) are lost, the level starts over.
2 - The progress bar shows how much of the level the student has completed
3 - The dots under the bar show how many unsuccessful attempts the student has made on this level
4 - The objective, game, and level number
5 - The percentage of the level completed (also shown in #2)
6 - The number of attempts (also shown in #3)
7 - Toggle this to return to the student puzzle
The student has the option to restart the puzzle (without losing a JiJi life or losing their place in the level) by clicking on the 'Restart Puzzle' link.
Clicking 'Puzzles' will show the number of puzzles in the level. Incomplete puzzles are a different color. The current puzzle is underlined. Students can click on a puzzle piece to go back to it if they've already completed it, but they cannot jump ahead. To exit this screen, click on the X on the left.